Why is Human-Centered Design Important to ICT4D?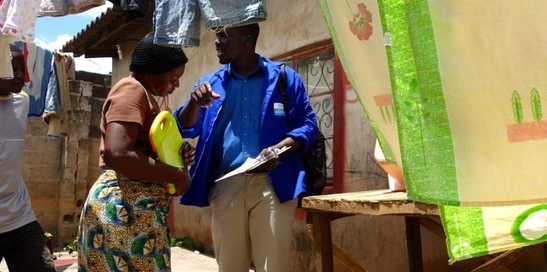 Adele Waugaman recently interviewed Danny Alexander and Sean Hewens of IDEO.org around the use of Human Centered Design in ICT4D for the blog series Best Practice in ICT4D.
[Sean]: In general the development community is very risk averse. If things go badly, you're not talking about losing quarterly profits but losing lives. One of the benefits of human-centered design is to mitigate risk by testing early and failing fast.
In the developing world so often where projects fail is the not around the actual technology or solution, but about how it is implemented in the context of the community. You need to ask yourself: Even if it the technology is good, how it might fail anyway? For example, is microcredit needed to enable the community to make necessary purchase? Is training needed to ensure that the technology will be used? You need to figure out all the conditions necessary to the technology being implemented and sustainable.
[Danny]: In our work, we encourage testing ideas in a rough, unfinished form, often before the technology is even developed.
One example is a recent project called Pump Away, funded by the Bill and Melinda Gates Foundation as part of their Reinvent the Toilet initiative, which is investing in technologies to address sanitation challenges around the world. Our work on Pump Away was to take one of the technologies they've developed—an Omni‐Ingestor—and develop the business, service and brand for a sustainable pit latrine emptying service in Zambia. The team spent a few weeks on the ground in Zambia, interviewing community members about what the sanitation challenges were. This made things really tangible and enabled the team to prototype quickly, even though the technology is still months, or years, from being finished.
One of the key criteria for the project was to design a service that would be financially sustainable, and that investors would invest in. So we asked ourselves: What kind of a business model will make people pay to use this, and what makes it better than the competition? Could we get a bunch of people to sign up to empty latrines at the same time in the same place for greater efficiency?
To test this idea, we dressed our local translator up as a salesman and gave him an artificial price for this service and then let him loose in the community to see if people would sign up. (See picture above) Within two hours, we had more demand than the technology could even fulfill. Rapid prototyping enabled us to do all of this before anything was built. Testing in this fast, rough way enabled us to prove the concept and understand local demand. We also learned that people were interested in emptying part of their latrine if they couldn't afford to empty the full latrine each time.
In the context of ICT4D, human-centered design can help with the design of a technology, and the context around it, long before the technology is ready for launch.