4 Best Practices to Bring the World's Knowledge to Burma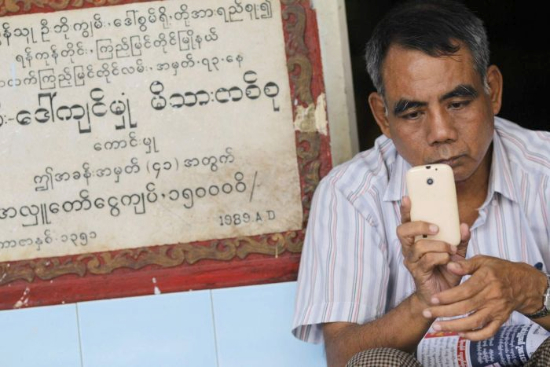 Just three years ago, a repressive government and international sanctions had effectively closed Burma to the outside world. Yet over the past few years the country has made significant progress along the path to democracy.
While visiting Rangoon it only takes a few days to realize that the city is busy kicking down the door to the present and eagerly looking forward to the future – particularly in the spread and use of mobile devices. Dozens if not hundreds of phone shops, such as the Mobile King, have opened in the larger cities, and amid the myriad of mobiles for sale, an Android smartphone can now be found for less than $50.
According to the latest GSMA estimates, 14 percent of Burma's population owns a mobile phone. However this situation will change very quickly with two new service providers, Ooredoo and Telenor, launching in the second half of 2014 and the incumbent, Myanmar Post and Telecom, increasing investments to protect its market lead. By the end of 2014 a majority of the population will be in a network coverage area, an unprecedented network rollout in both scale and speed.
An eager user-base is readying for this coming sea change, anticipating an infusion of cheap SIMs, budget phones, and affordable data packages as mobile networks compete for customers. Although mobile phones are still mostly in the hands of middle class residents of large metropolitan areas like Yangon and Mandalay, it will not be long before mobile penetration rates mirror those of neighboring countries.
With this expanded mobile coverage we anticipate significant interest from the development community to incorporate mobile technologies into their programming. USAID is already working with civil society groups, through initiatives like last winter's "Tech Camp", to help organizations in Burma harness the power of information and communications technology to promote their goals.
However, before we invest in dozens of new applications or solutions, we should step back and take stock of what we've learned in other countries. We are incredibly excited, but we also have an obligation to use our collective experience and expertise to contribute to tools that actually meet the needs of farmers, mothers, students, and citizens at meaningful scale.
We have a unique moment to come together as donors, NGOs, network operators, governments, and, critically, local organizations to establish a more coherent and coordinated approach to M4D. My team was originally created to work on mobile money, but our mandate has expanded to help USAID, and the development community at large, invest in the foundations of effective technology for development. In reflecting on our agency's experience around the world, we believe that there are important principles to follow in our approach to the mobile opportunity in Burma.
1. Breaking the Pilot Habit: Technology Platforms not Apps
As the
mHealth experience in Uganda shows
, a proliferation of apps that don't talk to each other, that capture data in different formats, and don't integrate with national systems is not sustainable and won't serve the country's interests in the long run. It does not make good economic sense to spend development dollars to create apps that replicate the functionality of existing services and serve only a small project.
Instead, by collaborating with technologists and working with mobile network operators and third-party service providers, we can build platforms that all development organizations can take advantage of using simple APIs. This is the pathway to scale.
Rather than building an app for a specific health project, we need to develop technology systems that create lasting infrastructure supporting the national health (or agriculture, education, etc.) priorities of a country. In Burma USAID has already begun conversations with the new service providers Telenor and Ooredoo and will be looking to promote a larger dialogue on how we can share technology platforms to enhance the scale and impact of our work.
2. Invest in Our Strengths: Focus on Development
Through this collaboration we can focus on what we're good at, producing development content and systems – the health messages, the farmer training videos, the voter education services, or distance learning modules. We need content and service delivery systems that are relevant to users, address critical needs or interests, are fresh and up-to-date, and are appropriately localized in terms of language, geographic differences, and culture.
In Burma, as in many countries, it is not enough to create generic agriculture extension modules for rice farmers, for example. That information needs to be localized so that it is useful across the geographic zones where best practices vary with soil quality, rainfall patterns, or terrain. As development specialists, content and localized approaches are where we bring value.
3. Content Libraries not Islands
Just as we should invest in platforms rather than bespoke projects, we should look to scale the use of our content rather than isolating it within specific activities. Development organizations should push open source content that can be re-used and adapted across projects and institutions.
Companies like Awba in Burma are already developing agriculture training content and could evolve their services to collect and curate agriculture-related digital content that anyone can freely use. Similarly, multi-donor initiatives like the
Livelihoods and Food Security Trust Fund
, which works to improve the food and livelihood security of the poor and vulnerable in Burma, can play a central role in coordinating donors and development content.
Determining the best model for maintaining content libraries will require thought and, likely, initial funding by development organizations. But that is why we start now.
4. No New Wheels: Adapt and Refine Rather than Build from Scratch
With a platform (or small set of platforms) and structures for sharing digital content in place, development organizations can more easily understand what services and content are already available and avoid redundant investments.
We need to stop continuously creating first generation applications and services and dedicate scarce resources to making existing tools better by focusing on the user experience. A local organization,
Proximity Designs
, is leading the way with its investments in user-centered design, and we would do well to take the same approach.
None of these ideas are new. Nor are any specific to Burma. In fact, they reflect many of the emergent best practices that are being promoted by implementers around the world. But we can start by laying the groundwork for effective M4D investments in Burma. We have a unique opportunity to avoid past mistakes and shape a better future.
Brooke Patterson is the Asia Regional Advisor for USAID's Digital Development team