Why Agriculture Traceability Matters to Companies, Consumers and Communities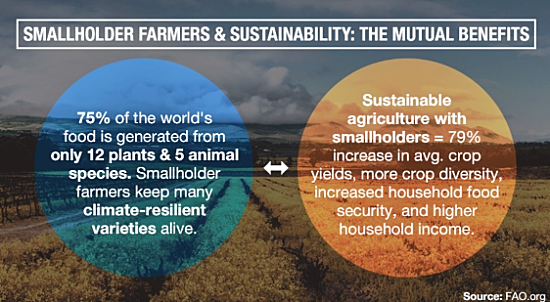 Traceability is the key to buyer confidence and transparent relationships with smallholders to achieve global food security. During June's ICTforAg conference, I set out to provide audience members with a glimpse into traceability—what it means, why it matters, and what it looks like from three critical perspectives, which I call Three Cs:
the consumer (all of us)
the company (supply chain owner/operator)
the community (networks of smallholder farmers)
While there is no shortage of definitions of traceability, for the sake of this forum comprised of technologists, agriculturalists, development practitioners, and thought leaders, let's think of traceability as a system and set of tools that that achieves the following:
Enhances Visibility: Increased insight along the supply chain reveals any vulnerabilities, strengths, and areas for improvement.
Improves Operations and Engagement: Data collected informs the decision-making process, program design, and how communities, companies, and consumers communicate with one another.
Ensures Compliance and Safety: Oversight confirms adherence to standards and regulations. During recalls, traceability expedites critical identification and segregation measures.
Links Communities to Consumers: Transparency along the value chain from "farm to fork" allows us to make informed choices—to know where our foods come from, how they were farmed and sourced, what goes into them, and who plays what role along the way. To that end, traceability is the brush with which we are able to paint the picture of a product's provenance. It's a storyteller. It adds color to the long journey our goods make everyday.
With this general definition, we can begin to look into the logic behind the investment.
The ROI in Agribusiness: Investments in Sustainability
Resource-intensive industries report significantly higher ROI from direct and indirect investments into sustainability programs than many other industries. Agribusinesses investing in diverse training programs, increasing smallholder access to markets and improved inputs, and deploying ICT applications and traceability systems are likely to:
Increase consumer confidence
Improve business functions (record keeping, inventory, forecasting, response time)
Decrease waste, fraud and abuse
Increase productivity, accountability, and the flow of information
Traceability is everywhere and unavoidable, but we might not yet connect the concept with browsing the aisles of a grocery store or ice chests of a seafood market. What is unique and what is perhaps the only differentiator is the form it takes throughout the value chain. So let's look at this through the lens of each driver behind that concept.
The Consumer-Facing Perspective
Seafood: ThisFish and TrackWell are just a couple of examples of tools that enable consumers to track their seafood through coordinated tagging, barcode, and QR code-based systems that provide details of the location, timestamp, and vessel reeling in the catch. From a freshness and fraud perspective, this greatly improves your chances of purchasing exactly what you are looking for. See Also: Huffington Post The High Cost Of Seafood Fraud
Produce/Consumer Packaged Goods (CPGs): Food tagging and labeling is big business. That being said, keeping up with the ever-evolving industry and government traceability standards and requirements requires significant resources. In an effort to streamline produce, packaged goods, and seafood traceability, several technologies and companies have emerged to meet the growing demand for consumer-facing traceability solutions. HarvestMark and GeoTraceability are just two among the growing field of providers.
The Company (Supply Chain Owner/Operator)
Moving further upstream, we can get a glimpse into what traceability looks like to companies. From this perspective, we look at multinational agribusinesses working with communities to source produce and ingredients, and then crafting, packing, and delivering finished goods to store shelves everywhere.
From woven tags, barcodes, and QR codes, keeping track of where goods are within the supply presents a unique set of challenges. There is no "one size fits all" solution, so in order to meet regional, international, and industry-specific standards and regulations, companies employ a range of strategies to streamline supply chain logistics.
Not only does this provide insight into the movement of goods through the supply chain, traceability systems provide companies with valuable insight into direct and indirect risks, quality, yield, and volume data that inform sourcing design and supplier engagement (read: training/standardization) to name a few.
Given their proximity, and relationships with smallholder farming communities, companies are well positioned to influence yield and quality through their engagement and investment. Take for instance a company's investment in GPS devices, identification cards, and cloud-based infrastructure to store, track, and manage data fed from activities on the ground—on the farm. When mapped and surveyed, the company can not only capture crop volume and quality detail, but when paired with farmer business training that provides farmers' access to boundary data, communities can also more precisely develop crop diversification schemes, plan for cost of required inputs, and more confidently operate their farms—their businesses.
The Smallholder Farmer Perspective
This is where the farm-to-fork concept comes into play. From the perspective of an agrarian society, smallholder farmers linked to buying stations can more effectively communicate harvest dates, location, and volume prior to transportation to buying stations or storage for pick up/purchase.
Increased investment in mapping to capture farmland area, comprehensive community surveys to better understand communities, their needs, and capabilities, and the distribution of handheld GPS devices are on the rise. Companies will often conduct a Training of Trainers (ToT) for a group of cooperative leaders, who will return to their farmer groups and survey the land, the cooperative members, and in many cases, pertinent community details such as distance to boreholes, health clinics, schools, and more.
At the farmer level, traceability takes many shapes. As GPS devices have evolved, farmers can now map their lands, geo-tag photos to display boundary lines and demonstrate improvements or setbacks, and push data to cloud-based systems maintained by companies via cell signal or WiFi. Increasingly, data collected is not only shared with the brands sourcing ingredients and stores where we purchase produce and finished goods, but also with farmers and communities as a measure that compliments farmer field schools and business school training.
As systems mature, costs decrease; physical (sacks/bags/product) and administrative (contracts/receipts) traceability grows clearer; tagging, marking, stamping, and bar-coding evolve; operations, communication, and engagement across communities and companies improve; and consumers are able to more accurately trace—and trust—their purchases.
This was just the "quick and dirty" on traceability from a generalist's perspective. There is much more to the conversation, so I encourage you to explore the concept, the issues, and the tools further through the mentioned/linked companies—that's a good start.
By Kevin Wilkins, ICTforAg and Traceability Consultant